Indian PM reshuffles cabinet amid rising food prices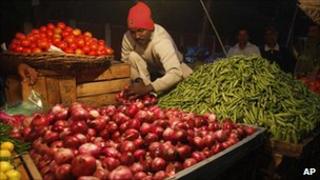 Indian PM Manmohan Singh has carried out a minor cabinet reshuffle as his government grapples with food inflation and corruption scandals.
While the key ministries of finance, home, defence and foreign affairs remained unchanged, Oil Minister Murli Deora was replaced.
So too was Roads Minister Kamal Nath, seen as moving too slowly on efforts to boost India's weak infrastructure.
The reshuffle was seen by Mr Singh as an effort to refresh his coalition.
The BBC's Geeta Pandey in Delhi says the changes are mostly cosmetic and are unlikely to have any real impact on the way the government is run.
Our correspondent says that they have been introduced in part so that the prime minister can transfer or get rid of inefficient or corrupt ministers, and partly to enable him to send out a message of change and renewal roughly halfway through his tenure.
In a signal of the government's desire to clean up its image, Mr Singh transferred Sports Minister MS Gill, who was widely criticised for overseeing a Commonwealth Games last year that was ridden by corruption scandals, causing embarrassment to India around the world.
Also removed was Oil Minister Murli Deora, who was replaced by Jaipal Reddy, a political heavyweight of the ruling Congress party.
Correspondents say that a tide of anger over corruption and the increasing price of staple foods threatens to strain the Congress Party's ties with its increasingly worried party allies in the run-up to state elections this year and a general election due by 2014.
The price rise has been blamed on unusually heavy rains in the bulk-producing western states of Maharashtra and Gujarat and in southern states, as well as on hoarders and speculators.