India film star Aamir Khan recalls Gujarat quake horror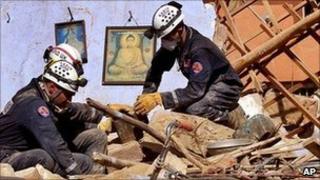 Indian film star Aamir Khan has told the BBC of the horrors he witnessed after the earthquake that devastated western Gujarat state 10 years ago.
The 7.9 magnitude quake on 26 January 2001 killed more than 20,000 people and destroyed 400,000 homes.
Khan says he panicked when he heard the news that Bhuj, the town where he shot the Oscar-nominated film Lagaan, had borne the brunt of the disaster.
The devastation he later saw in Bhuj was a "saddening sight", he said.
'Complete shock'
"We were in an edit suite in Mumbai [Bombay] working on Lagaan, when someone rang the studio to ask whether our friends in Bhuj were alive and OK."
"I replied: 'Why on earth are you asking me that?'
"I went into complete shock when I was told that they had been hit by a very big earthquake.
"I still remember looking towards the editing table because the frame we had paused was of me surrounded by villagers from Bhuj - our friends," Mr Khan said.
"I saw their faces on the screen and was scared. I panicked. Who, out of these hundreds of people, had survived?"
Aamir Khan waited six months before returning to the affected region.
"I was going to meet people whose lives and homes had been destroyed. People who had lost everything they had. How would I meet them and reach out to them? I was traumatised," he said.
"We went back to the place we'd lived, but the building had collapsed. Bhuj was still in very bad shape, the market place, homes, buildings were destroyed. A lot of cleaning up had happened, but so much more needed to be done.
"It made me realise what they've been through," he said.
Lagaan tells the story of villagers in Victorian India staking their future on a game of cricket against ruthless British rulers.
The film's cast and crew, including music composer AR Rahman and British and Indian actors, raised money for the relief effort, much of which was used to build new homes for villagers.
Ten years on, Mr Khan said that the experience of working in the affected area was a "sweet memory".
"The people are very vibrant, full of hope, life and they have an immense sense of pride in them," he said.
"They have very big hearts and are strong people, emotionally. They are people with character and dignity."
Hear the Gagan Grewal Show on the 10th anniversary of the Gujarat earthquake special, BBC Asian Network from 1830 GMT on Wednesday.