Floods fury returns to Sri Lanka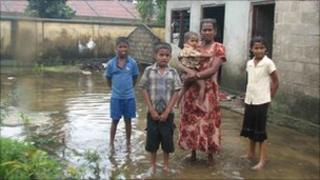 People in Sri Lanka are going hungry as a fresh wave of floods has hit the east, centre and north of the island.
Some 320,000 people have been forced to take refuge in makeshift camps in schools, temples and mosques.
The floods have affected 1.25 million people. Officials say 11 people have been killed and three more are missing.
Last month, more than 300,000 were displaced by the floods which killed at least 40 people, ruined crops and killed livestock.
In what is normally known as Sri Lanka's dry zone, people are once more getting around by boat.
Most people in this part of the country live in basic, single-storey houses built of simple materials.
Vast numbers of these are now inundated and the consequences are serious.
The government says each flood-affected person is entitled to regular dry food rations.
But they are not reaching everyone.
Shanmuganathan Kirubanandan, a teacher near Batticaloa in the east, went to the shop which was supposed to give out food for him and his family.
He came away empty-handed and has no cash to buy food either after weeks of heavy rain.
"I have had no classes for the last four weeks. After 20 days, my savings are all finished," Mr Kirubanandan said.
If he does not get food soon, he will have to seek loans or pawn his wife's jewellery.
Like many others, his family was asked to leave the makeshift camps in schools on Sunday. But, they say their homes are not fit to live in.
Some have gone back to the camps.
The government says it is setting up a special health protection programme for the benefit of those affected by the floods.
Access is still a big problem and the navy and air force have been enlisted in the relief operations.
Last month, floods deluged 11 of the country's 25 districts, ruining crops and killing livestock.