Pakistan: Peshawar checkpoint blast kills policeman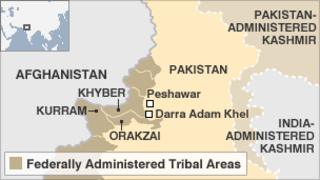 A policeman has been killed and three others wounded in explosions at a security checkpoint in the north-west Pakistani city of Peshawar, police say.
Although no-one was injured when the first bomb went off, a second remote-controlled bomb hit police who rushed to the scene.
The checkpoint had been abandoned after a previous attack last year.
Hundreds of peole have been killed in the region in recent years in violence between militants and security forces.
Last week at least nine people were killed in a bomb attack near a police station in Peshawar.