Maldives profile - Overview
17 March 2015

From the section

Asia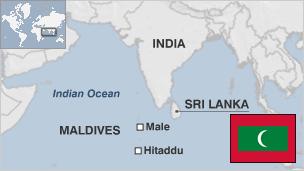 The Maldives is an Islamic republic which lies off the Indian sub-continent. It is made up of a chain of nearly 1,200 islands, most of them uninhabited.
None of the coral islands measures more than 1.8 metres (six feet) above sea level, making the country vulnerable to a rise in sea levels associated with global warming.
With its abundant sea life and sandy beaches, The Maldives is portrayed by travel companies as a tropical paradise.
The economy revolves around tourism, and scores of islands have been developed for the top end of the tourist market.
Aside from the island capital Male, outsiders are only permitted onto inhabited islands for brief visits, thereby limiting their impact on traditional Muslim communities.
Tourists insulated
Most tourists are taken straight to their island hideaway by seaplane or speedboat, where they are free to drink alcohol and get luxurious spa treatments, insulated from the everyday Maldives, where alcohol is outlawed and skimpy beachwear frowned upon.
Many Maldivians live in poverty. However, the country has developed its infrastructure and industries, including the fisheries sector, and has boosted health care, education and literacy.
The Maldives was hit by the December 2004 Asian tsunami. Homes and resorts were devastated by the waves, precipitating a major rebuilding programme.
There is a fear that as sea levels rise, island countries such as the Maldives, and some Pacific territories, will simply be swamped and disappear.
Political troubles
The Maldives held its first multiparty elections in 2008, following decades of autocratic rule.
The first democratically-elected president, Mohamed Nasheed, resigned in 2012 in the wake of opposition protests, and after a mutiny by police and the military. He said his resignation had been forced on him at gunpoint and dismissed charges subsequently brought against him as politically motivated.
Mr Nasheed was the clear frontrunner in the next presidential elections, held in 2013, but failed to secure an outright majority. The result was annulled by the country's supreme court and a fresh election called, in which Abdulla Yameen beat Mr Nasheed in November 2013.
Political unrest has also seen demonstrations by Islamic fundamentalists. There are fears that hardliners are gaining influence, especially on the more-remote islands.