Maldives profile - Media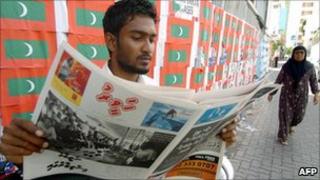 Parliament passed a law criminalising defamation in August 2016 despite international concern that it risked undermining freedom of speech.
The law prescribes hefty fines and prison terms for violators found guilty of publishing defamatory material including gestures deemed to be against "any tenet of Islam". Newspapers and websites also risk having their licences revoked.
Independent media institutions have voiced fears that the new law could be used to stifle freedom of speech and lead media outlets to self-censor.
In 2016, Reporters Without Borders described the Maldives as "still very hostile for independent and opposition media".
It expressed concern over the closure of the independent website Channel News Maldives, saying it would lead to increasing self-censorship by other outlets daring to criticise the government.
Earlier in 2016, the country's oldest newspaper Haveeru closed down after a controversial court into an ownership dispute,
There were 270,000 internet users as of June 2016 (Internetworldstats.com)
The press
Television
Radio
Internet