Court orders Delhi to check 'toxic' vegetables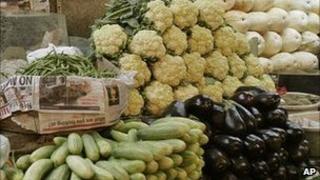 A court in the Indian capital, Delhi, has ordered the authorities to test vegetables for toxic substances.
The government has been ordered to randomly buy vegetables from big markets and street vendors.
The order came after news reports said that banned pesticides were being used in vegetables and fruit, putting the health of consumers at risk.
A recent study claimed that the amount of pesticides used in India is as much as 750 times European standards.
"We would like to find out as to whether pesticides are there in the vegetables sold in Delhi or not," news agency Press Trust of India quoted a Delhi High Court bench headed by Chief Justice Dipak Misra as saying.
"It would be appropriate that the vegetables be purchased randomly and sent for the test at certified laboratories."
The government has been given five weeks to return with its findings.
According to a study on the use of banned pesticides by non-governmental organisation Consumer Voice, four of five internationally banned pesticides were found in vegetables and fruit sold in Delhi.
These pesticides caused headaches, affected fertility and also damaged the kidney and liver, the report said.