Bangladeshis stranded in Libya 'will get help'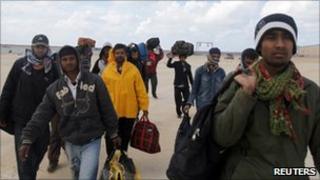 The Bangladeshi government says that it is stepping up its efforts to bring back thousands of its nationals stranded in violence-hit Libya.
It is estimated that a total of about 50,000 Bangladeshis are stranded, with nearly 12,000 on the border with Tunisia and 5,000 on the Egypt border.
Officials say that they hope to airlift those stuck on the border in the next two weeks.
The government has been criticised by the families of those stranded.
They say that its response to the crisis has been too slow.
'Key role'
Meanwhile the bodies of three Bangladeshis who died after they jumped from a ship that was ferrying people to Greece from Libya have arrived in Dhaka.
Several dozen Bangladeshi evacuees jumped from the vessel into the sea when it arrived at the island of Crete. Eleven of them are still missing. It is not clear why they jumped.
On Thursday, Foreign Minister Dipu Moni told the BBC that just over 11,000 people had so far been brought home.
She said that the International Organisation for Migration (IOM) is playing a key role in transporting the workers.
The government says that the priority is to repatriate Bangladeshis stranded on Libya's borders first - by using the national carrier Biman and private airlines.
It says that operation is expected to last about two weeks.
The BBC's Anbarasan Ethirajan in Dhaka says that it appears that those Bangladeshis not on Libya's borders may be unwilling to return home because to do so would mean losing their jobs.
Our correspondent say they may want to rough it out until the situation improves.
'Relatively safe'
"There are many limitations. It is not a happy situation," the foreign minister said.
"Still, the government is doing its best. We have been working from the very beginning to assist stranded Bangladeshis.
"We are going to share the cost of transporting the workers back home with the IOM."
Ms Moni said that Bangladeshis were among the largest expatriate groups in Libya.
She said that those who had remained inside the country were in "relatively safe places".
"But if they also want to come out, then we are fully prepared to evacuate them," she said.
"Our national carrier Biman Airlines has limitations and our airport in Dhaka also cannot handle more than a certain number of people.
"Biman is going to operate five flights a week. The US and Italy are also helping us."