India Maoist leader wanted for train crash killed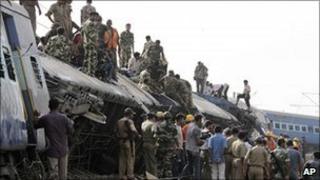 Police in the eastern Indian state of West Bengal say they have killed a top Maoist commander in a gun battle.
Sasadhar Mahato was killed near Jamboni in the West Midnapore district late on Thursday, police said.
Mr Mahato was believed to be behind an act of sabotage which led to a deadly train crash in the state last May.
More than 150 people were killed when a passenger train derailed and collided with a an oncoming freight train. The rebels deny involvement with the crash.
Mr Mahato was "leading the last big Maoist squad" in Bengal's Jungle Mahal region, officials said.
Last August, police said a top Maoist guerrilla, Umakanta Mahato, who was also wanted in connection with the train crash, had been killed.
The Maoists say they are fighting for the rights of the poor and the landless.
PM Manmohan Singh has described the Maoist insurgency as India's biggest internal security challenge.