India Maoist rebels 'killed in gun battle'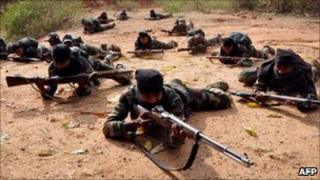 Six Maoist rebels have been killed in a gun battle in the Indian state of Bihar, police say.
One policeman was injured in the clash in East Champaran district late on Sunday.
Ten rebels, including three women, were arrested in possession of arms and ammunition, a senior police official said.
Indian forces are battling Maoists in several states. The rebels say they are fighting for the rights of the poor.
Prime Minister Manmohan Singh has described the Maoist insurgency as India's biggest internal security challenge.
The police said that the gun battle began after policemen and paramilitary forces surrounded a rebel hideout in Dharmaha village in East Champaran.
Separately, three rebels were arrested from Rohtas district, police said.
A government offensive against the rebels - widely referred to as Operation Green Hunt - began in late 2009.
It involves 50,000 troops and is taking place across five states - West Bengal, Jharkhand, Bihar, Orissa and Chhattisgarh.