Indian navy captures 61 pirates on Mozambican ship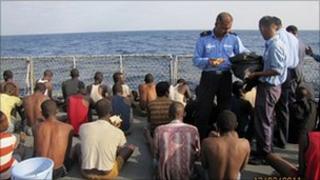 Dozens of pirates aboard a Mozambican ship have been captured by India's navy after a gun battle in the Arabian Sea.
The Indian navy says it seized 61 pirates and rescued 13 crew from the vessel, which had been used as a mother ship from where pirates launched attacks around the Indian Ocean.
Attacks by pirates off the Indian coast have become increasingly more violent.
Meanwhile, a Bangladeshi ship hijacked by pirates last year has been freed after a ransom was reportedly paid.
The M V Jahan Moni and 26 Bangladeshis aboard were released after the ship's owners paid a $4m (£2.49m) ransom, unnamed company executives are quoted by the AFP news agency as saying.
It was captured in early December about 550km (341 miles) off the south-west coast of India on its way to Greece. It is now on its way to Oman.
Shipping 'risk'
The Mozambican fishing vessel, the Vega 5, had been hijacked in late December.
Two Indian navy ships intercepted the ship in the Arabian Sea nearly 1100km (695 miles) off the southern coast of Kochi and engaged in a gun battle, the navy said in a statement.
A large number of small arms and a few heavy weapons were also seized in the raid.
The Vega 5 had been a "risk to international shipping for the last four months, having carried out several attacks", the navy statement said.
This is thought to be among the largest group of pirates to be captured. The nationalities of the pirates is not clear.
In February a group of 28 suspected Somali pirates were captured in the Indian Ocean in a joint operation between the Indian coastguard and the navy.
Piracy in the Indian Ocean has been on the increase as pirates seek to avoid naval patrols elsewhere.