Bangladesh Court to hear microcredit pioneer's appeal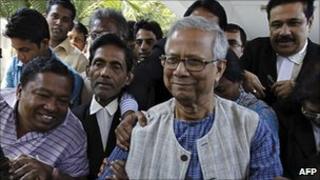 The Bangladeshi Supreme Court is set to hear an appeal by Nobel Laureate Muhammad Yunus against a High Court decision to uphold his sacking.
Prof Yunus had to stand down as managing director two weeks ago after the authorities said that at 70, he was past the mandatory retirement age.
His supporters say it is related to his attempt to enter politics three years ago, a charge the government denies.
Prof Yunus told the BBC the priority was to ensure the bank's stability.
The court is due to begin the hearing at 0900 local time (0300 GMT) in the capital, Dhaka.
A ruling in the case - which Prof Yunus lost in a lower court - is expected either on Tuesday or on Wednesday.
'Uncomfortable feeling'
Meanwhile, in an interview with the BBC, Prof Yunus said the main priority should be to maintain the stability of the Grameen Bank, which has more than eight million borrowers, most of them rural women.
"The important thing for Grameen Bank right now is transition so that the bank continues to function smoothly without any kind of shock or uncomfortable feeling about it. That's what we should be concentrating on," he said.
"It should be a friendly transition, so that the mission is to stay on course and that nothing gets disrupted, because this is a bank owned by poor women."
Prof Yunus founded the Grameen Bank three decades ago. He was awarded the Nobel Peace Prize in 2006 for helping millions out of poverty with small loans.
The vast majority of beneficiaries are women who traditionally have limited access to conventional bank credit.
Prof Yunus said he was pleased with the way poor women were able to improve their lives with the help of the model which he and his colleagues created.
"We developed a system which is delinked from collateral. Collateral was what was separating the vast majority of the people of this planet from the banking system. We broke that wall," Prof Yunus said.
Until that time, he said, it was thought women should not be anywhere in the economic cycle. But microcredit offered an opportunity for women to create their own jobs.
"After all these years of microcredit, which started in a tiny way, it has become massive and global but still it is focused on women," he said.