India border guards killed in Assam rebel attack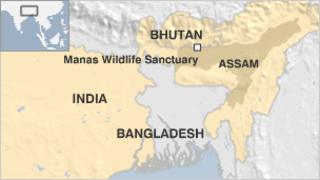 At least five Indian border guards have been killed in an attack by separatist rebels in India's north-eastern state of Assam, officials said.
The paramilitary soldiers were returning from patrol when they were ambushed at Ultapani forest on Monday.
Three of them died on the spot and two died of injuries later. Three others were seriously injured.
Police believe the attack was carried out by the National Democratic Front of Bodoland (NDFB).
The NDFB want an independent homeland for the Bodo ethnic group to be carved out of Assam.
A hardline faction of the group is opposed to negotiations taking place between their moderate colleagues and the Indian government.
Last month, six volunteers of the World Wildlife Fund were kidnapped from the Ultapani forest. They were later released.
The Ultapani range lies in the western part of the Manas Tiger Reserve close to the densely forested, mountainous border with Bhutan.