Rescued Bangladeshi tells of his Libyan nightmare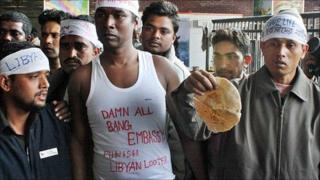 Ataur Rahman, a 28-year-old electrician from Bangladesh, is enjoying every moment with his four-year-old son in his native village of Maloncha, about 60km (37 miles) from the capital Dhaka.
Just a few days ago, he thought he would never see his family again. He was afraid he would die in Libya, where he went to work in a construction firm in the eastern city of Darnah in December 2008.
Mr Rahman is among the thousands of Bangladeshi workers who have fled the country and managed to return home safely.
When the conflict started in Libya, official figures said there were more than 60,000 Bangladeshi nationals working in foreign construction firms, oil companies and other businesses in the country.
Officials say up until mid-March, about 20,000 workers have returned from the country, mostly with the help of the International Organisation for Migration (IOM).
'Scared of death'
"In mid-February, about 2,000 Libyans attacked our construction project at midnight. They looted our money, mobile and other valuables. They beat us up severely. We were held hostages in a madrassa," recollects Mr Rahman.
"They gave us only one piece of bread a day. There was severe water shortage. We were scared of death all the time. In Darnah, I saw many dead bodies."
After spending days in captivity, Mr Rahman says, they managed to bribe some locals and reached Libya's border with Egypt. With no money and no travel documents, they languished in desert camps in extreme weather conditions.
After spending a week in open camps with little food and water and no toilet facilities, he flew back home with the help of the IOM.
Mr Rahman's wife, Nazma Begum, says it was excruciating not knowing what had happened to her husband in the last few weeks.
"He used to call me and tell about his unbearable sufferings. A few days later, we lost communication and I was worried about his safety. I started crying when he told me that he did not have anything to eat for several days," she said.
"By the grace of God, my husband has returned safely, so I am happy. But he is not earning at the moment, so we are worried about our future."
Lucky few
Villages like Maloncha depend on money sent home by expatriate workers. There are more than six million Bangladeshis working in foreign countries, mostly in the Middle East, North Africa and Europe.
Remittances from abroad reached a record $11bn (£6.82bn; 7.8bn euros) last year, the second biggest foreign income after exports from the garment industry.
But for now, the question is what will happen to those workers who have returned from Libya.
"I took a loan of about $3,000 (£1,861; 2,142 euros) to go to Libya. I have paid back 50% of my loan. I thought that if I could work in Libya for four to five years, I could pay back all the loans. Unfortunately, I had to come back. I do not have any money now," says Mr Rahman.
He has to support five of his family members, including his ageing parents. Still the family does not know whether he will get a job or whether there will be any opportunity to go back to Libya.
Mr Rahman is among the lucky few who have been reunited with their families - there are still thousands of Bangladeshis stuck in Libya. It is estimated that there could be another 20,000 - or even more - who are working illegally in Libya in addition to the official figures.
The IOM has been playing a major role in bringing home stranded Bangladeshis from Libya's borders with Egypt and Tunisia.
The organisation says Bangladesh is one of the worst-affected countries because Bangladeshi migrants constitute the largest group of third-country nationals in Libya.
"This is the second biggest repatriation of Bangladeshis since the first Gulf war. The numbers are huge and it's a big challenge for us and other aid agencies," says Rabab Fatima, the IOM's South Asia representative.
Limitations
She says the majority of the migrants struck on Libya's borders with Egypt and Tunisia are Bangladeshis.
"We need to evacuate these people as fast as possible as there's a scarcity of basic necessities like food, water and shelter in the border camps."
With the conflict intensifying in Libya, there are fears that more migrants could flee the country and that these workers might end up languishing in desert camps in sub-human conditions.
Many Bangladeshi workers who have returned say the government was too slow to react to the crisis.
But Foreign Minister Dipu Moni disputes those accusations.
"There are limitations on all sides. It is not a happy situation at all given the conflict that is going on in Libya. We are doing our best to evacuate our people," she said.
The country's national airline carrier, Biman, has been pressed into service to transport stranded workers from the region.
But the airline - arguably like the government's rescue mission itself - does not have a reputation for efficiency. They could be in for a long wait.