Blind journalist hits her disability for six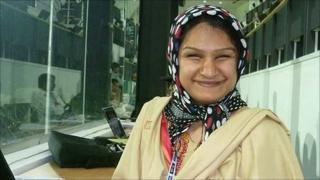 During matches at the sparkling Pallekele Stadium in Sri Lanka, Sania Zaidi sits at the front of the big, glass-fronted press box.
At a press conference with Sri Lanka's vice-captain, Mahela Jayawardena, she raises her hand to ask if the team will be using three spin bowlers in its attack.
She is just the same as any other journalist - only Ms Zaidi, flanked by her husband, has been blind since childhood.
She is now 28 and a university lecturer in her home town of Multan in Pakistan, teaching mass communications. But she is also a keen cricket reporter, describing journalism as a hobby.
'Not accepted'
Ms Zaidi is one of the hundreds of journalists who have been covering the current Cricket World Cup in the subcontinent - and one with a particularly fascinating story to tell.
Her cricket reporting started in 2004 when she interviewed the star Sri Lankan player Sanath Jayasuriya - then playing a series in Lahore - as part of a university assignment.
"He is a thorough gentleman," she told the BBC.
"He gave me five minutes and I did the recording. That was very remarkable in my life."
She says she likes Sri Lanka and the national team's attitude which encouraged her to take a deeper interest in the game.
But her passion for sport began at high school, when she opted to study physical education.
"No one accepted a blind girl as doing such type of subject," she says.
"But I took it as a challenge and doing all the practicals like javelin throwing, discus throwing and everything."
'Punishment from God'
Now she provides interviews to three daily papers, sometimes for radio and TV - and for this World Cup - a monthly magazine, Pakistan Special.
Her interviewees range from India's cricketing legend Sachin Tendulkar to the Pakistani squash giant Jahangir Khan.
Ms Zaidi lost her sight in early childhood and says it is a blessing of God that she does not remember being sighted.
Her mother used to record textbooks into a cassette recorder but school exams were difficult as she herself had to dictate answers.
Her parents, brother and sister have been highly supportive in helping her appreciate the game and the players.
"They made a plastic World Cup or a paper World Cup to show me how it looked like. They made me touch and feel how it is. And also if I talk about [Sanath] Jayasuriya - my brother told me about his face, about everything, so I feel like I can see."
Ms Zaidi follows matches through radio, television and online commentaries, and has audio software to help her as a blind person with computing. The rise of IT has helped her in immeasurable ways.
But asked what it is like to be blind in Multan, she replies emphatically "very very bad".
"Sometimes people even say that being blind must be a punishment from God. There are no braille facilities in the city or CDs in the public library."
Her husband of one year, Khawaja Muhammad, travelled to Sri Lanka with her. But despite sitting through the matches with his wife he jokes that he has no interest in cricket.
"I am a librarian by profession so I am interested in study and also in library books," he says, smiling broadly.
Ms Zaidi jokes that she has so far failed to interest him in the sport, although she is working on it.
Before heading back to Pakistan they were spending their first wedding anniversary in Thailand - but she would rather cover the rest of the World Cup, she admits mischievously.
Out on the turf during a practice session, she gets the fast bowler Lasith Malinga's autograph for her brother.
He is as big a cricket fan as she is, Sania says.