World Cup cricket: Bangladesh probe into team failure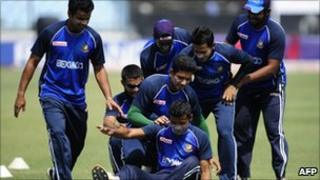 An investigation is to be launched into the Bangladeshi cricket team's failures at the cricket World Cup, the government has announced.
The team managed to beat England but was trounced by the West Indies and also lost to South Africa and India in their first round matches.
Bangladesh are one of the co-hosts of the 2011 Cricket World Cup. Eight matches were staged there.
The other hosts, India and Sri Lanka, did qualify for the knock-out phase.
The Bangladeshi team came in for strong criticism after they were bundled out for just 58 runs by the West Indies. Later, South Africa bowled them out for just 78.
On a more positive note, in addition to their famous win over England they also recorded victories against the Netherlands and Republic of Ireland.
It meant they narrowly missed out on a spot in the quarter-finals.
'Debacle'
"We are trying to find the causes behind these humiliating defeats. We shall take necessary measures to overcome these weaknesses," Bangladesh state minister for sports, Ahad Ali Sarkar, said.
"We will certainly investigate into the reasons behind the debacle. We also want to see the Bangladesh Cricket Board to be more transparent and accountable," Mr Sarkar said.
The defeat by West Indies also sparked angry reactions among fans who stoned a bus carrying the West Indies team.
Officials said the fans thought the Bangladeshi team was on the bus instead.
"It will be good if they find any fault," Mohammad Ashraful, one of the senior players in the Bangladeshi cricket team, told the BBC. But he refused to comment further.
Meanwhile Bangladeshi Cricket Board officials said there was no need for any inquiry as success and failures are part of any sport.
"There is no need for any inquiry. The Cricket board will discuss with the players and try to find out reasons for the shortcomings and we will address those issues," Mr Manzur Ahmed, the chief executive officer of the Bangladesh Cricket Board told the BBC Bengali service.
"If the government formally approaches us with any questions then we will respond to them," he said.