India-Pakistan cricket battle at Mohali raises passions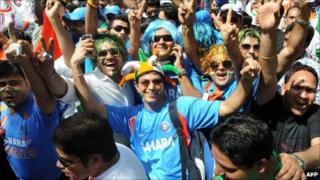 Chandigarh, the placid, manicured, well laid-out city designed by French architect Le Corbusier, does not know what has hit it.
It is hosting the World Cup cricket semi-final between India and Pakistan, and its streets have been invaded by thousands of security personnel and ticket-seeking fans.
All this because the leaders of India and Pakistan are in town. It is also the first time the sides have met on each other's soil since the 2008 Mumbai attacks.
With only a few hotels, rooms are completely sold out.
The city's only five-star hotel, the Taj, is hosting both cricket teams.
With news that the Pakistani prime minister and his entourage were also planning to stay there, some 30 hotel guests were hastily evicted late on Monday night to make way for the VIPs from across the border.
The sleepy Chandigarh airport, used to only a few flights a day, has faced a crisis as airlines brought in extra flights to cope with the demand, while some of India's top business leaders using their private jets.
They were asked to park their aircraft in the cities of Amritsar and Delhi since the airport ran out of space.
Tight security
Getting into the venue of the match, the Punjab Cricket Association stadium at Mohali, was a feat in itself.
Security men of every kind have taken up positions around it.
Big Sikh constables from the Punjab police in their khaki uniforms, anti-riot forces in blue fatigues, commando units in sleek black overalls and even federal troops in full battle-uniform keep a close watch.
They are being helped by bomb squads accompanied by sniffer dogs and aerial surveillance by helicopters.
With South Asia's top political leadership in attendance, no one is willing to take any chances.
Every person walking into the ground - officials, media personnel and fans - was checked for their identity and patted down vigorously before being let through.
Despite the intense security, there was enthusiasm. And everyone was desperate for a ticket.
With only half of the stadium's 28,000 tickets open to the public, there were none to be had except, we were told, on the black market.
Tickets apparently sold for up to 10 times their original value.
Ticket-seekers
At the ticket counter on Tuesday, hundreds of fans had queued since the early hours of the morning.
"We've been coming here every day for the past week," one of them told me. "But we've had no luck."
One person whose luck finally turned is Pakistani fan Bashiruddin Khan.
Originally from Karachi, Mr Khan lives in Chicago where he runs a restaurant.
Armed with a giant Pakistani flag, he has been a constant presence for the past three days outside the stadium begging everyone for a ticket.
"I have watched some of the matches in Bangladesh and Sri Lanka so I was very keen on watching a match between India and Pakistan," he says.
After he was extensively featured on the Indian media and became something of a local hero, the Punjab cricket officials gave him a complimentary ticket.
"Now I will cheer for both teams but pray that Pakistan wins," he beams.
"Do you think they'll give me a ticket for the final?"
Trickling in
But there was little sign of the thousands of Pakistani fans who were apparently offered visas, according to the Indians.
A few trickled in through the land crossing at the Wagah border.
Punjab Deputy Chief Minister Sukhbir Singh Badal made a public plea asking Chandigarh residents to open their "hearts and homes to our brothers from across the border".
Most people here are willing to do that - but the courtesy extends only to hospitality.
"They can come, they can play but they cannot win," one fan says outside the ground. "This is India's match."
It is the kind of passion that has come to characterise cricket matches between the two countries over the years.
It is also what is keeping the authorities on edge, hoping that emotions do not get out of hand and lead to an ugly situation.
That would create a huge problem, not just for them but also for the leaders of India and Pakistan, who are hoping to use the game to generate some momentum in ties between the troubled neighbours.