Conductor Zubin Mehta urges India to enjoy orchestras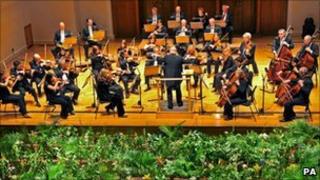 Acclaimed international conductor Zubin Mehta has returned to India to urge his countrymen to take an interest in orchestral music.
Western classical music is an unusual sound in India.
But as the country modernises and takes notice of more foreign influences, it is finding pockets of popularity in Mumbai - India's entertainment capital.
However no-one doubts that this form of music may struggle to raise its profile in a place where Bollywood rules.
India is a feast for the senses, and as far as sound goes, there is no shortage either.
But tunes from a piano or violin are hard to come by. Western classical music is yet to take off.
However, in cities like Mumbai it is possible to find small music schools and classrooms where young children hit the high notes with foreign instruments.
Small yet passionate
Mr Mehta is set to perform two sell-out shows in his home city.
He says that western classical music has come a long way since the 1930s and 40s, when his father helped to establish the Bombay Symphony Orchestra.
But in a country that has such rich and diverse musical traditions of its own, selling new sounds is a big challenge.
Through modernisation, India has opened up to the world, and Indians are now more readily learning about and adopting aspects of foreign cultures and trends.
At the moment though it is only a small yet passionate community which hopes that this will lead to a greater appreciation of Western classical music.
In a city already crammed full of sounds, from Bollywood pop numbers to guzzles of poetry set to song, it may be some time before the country's budding orchestra musicians perform sell-out shows.