Nepal film stars teach traffic police politeness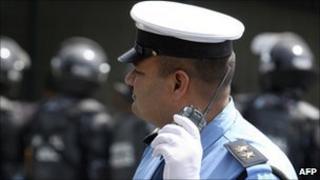 Nepalese film and television stars are giving traffic police in Kathmandu lessons in how to be polite, to help them control their temper when faced with chaos on the roads.
Senior officers hope the training will help the police remain calm while under pressure in the city's congested streets.
Many Nepalis complain that traffic police are rude and intemperate.
The training is part of a course designed to help police manage drivers.
'Everyone's in a hurry'
"We are very much concerned about the behaviour of our personnel," deputy inspector general of traffic police, Bigyan Raj Sharma, told the BBC.
"A few of our policemen need to improve the way they act," he said, adding that the celebrities had volunteered to help them in the week-long course.
"We want our traffic police to understand how people feel and that's what they're teaching us," Mr Sharma said.
The course also includes meeting student and civil society leaders.
While many people still view the ancient city of Kathmandu as a mystical Shangri-la in the Himalayas, the modern reality of life in Nepal's capital is far from peaceful.
Overcrowding and poor planning has turned this once quiet city into a noisy and chaotic urban sprawl.
Central to this is the city's badly maintained road system used by more than half-a-million vehicles, many of them old, polluting and unreliable.
Many Nepalis drive without proper training - ignoring lanes, road signs and road rules.
The city's 800 traffic police patrol every major junction, as traffic lights do not function properly because of frequent power cuts.
In the past few weeks, they have stepped up their patrols in an attempt to relieve the incessant traffic jams that plague the capital.
"Our city is almost at a standstill," said Inspector Sharma.
"Everyone's in a hurry and no-one follows the rules," he said.