India bans imports of all Japanese food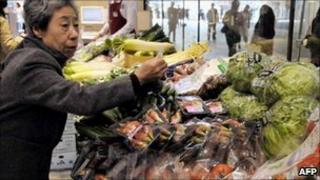 India has banned all food imports from Japan, citing fears over possible radioactive contamination from the country's nuclear disaster.
The ban will remain for three months or until the radiation hazard subsides to acceptable limits, a government statement said.
China, Taiwan, Singapore and the US have banned shipments of produce from certain parts of Japan.
But India is the first country to impose a blanket ban on Japanese food.
"Since the radiation is spreading/expanding horizontally in other parts of Japan, it may result in further radioactive contamination in the supply chain of food exports from Japan," the statement read.
It said the decision was taken after "detailed discussions" involving government nuclear, toxicology and customs officials.
The ban takes immediate effect. Authorities said weekly reviews would be carried out by the Food Safety and Standards Authority of India (FSSAI).
More than three weeks after a devastating earthquake and tsunami hit Japan, the crisis at the crippled Fukushima nuclear plant north-east of Tokyo continues.
The plant has sent radioactive material into the air, contaminating farm produce and drinking water.
Highly radioactive water has also seeped into the Pacific Ocean from the plant, but officials say there is no imminent health threat.