India police call off Christian survey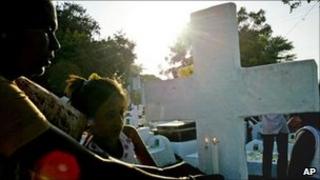 Police in the central Indian state of Madhya Pradesh have withdrawn a controversial survey about the Christian community after criticism.
The state police chief said the survey was a mistake and an inquiry would be conducted into how it came about.
In an order last month, the police were ordered to find out the exact number of Catholics and Protestants and institutions run by them.
Christian groups have described the survey as "religious profiling".
Madhya Pradesh is ruled by Hindu nationalist Bharatiya Janata Party (BJP) and has a history of communal riots involving Hindus and Christians.
'Incorrect'
"The survey was a mere goof up by lower-rung officials," state police chief SK Raut told the BBC.
"Though police collect such information periodically to ensure protection to minority communities in the state, the way this survey was ordered was incorrect," he said.
"The state police are collecting details of Christians as if they are all criminals," Father Anand Muttungal, a spokesman for the Catholic Bishops' Conference in the state capital, Bhopal, said.
"This is nothing but religious profiling."
Father Muttungal said although the survey had been halted now, it should be investigated who ordered it.
"I think there is an ulterior motive here," he said.
In an order issued on 22 March, all police stations in the state were asked to collect details about the number and location of churches and priests who ran them.
The police were also told to find out the source of income of Christian-run institution like schools and hospitals and whether they were receiving any foreign funding.
Father Francis Kariya, a priest who heads a small church in Ashta town, said he was visited by police a couple of days ago.
"The policemen said that if I refused to answer all the questions they would initiate legal action against me," he said.
BJP's parent organisation Rashtriya Swayamsevak Sangh (RSS) and its affiliates accuse Christian missionaries of forcibly converting poor tribals to their religion.
Christians, on the other hand, accuse the right wing groups of attacking them regularly.