Pakistan PM Gilani meets Afghanistan's Karzai in Kabul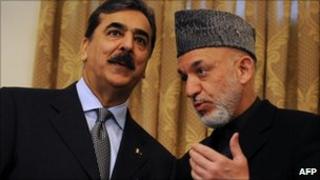 Pakistani Prime Minister Yousuf Raza Gilani has held talks with Afghan President Hamid Karzai in Kabul.
Mr Gilani was joined by his armed forces chief, Gen Ashfaq Parvez Kayani, and the head of the intelligence agency, Gen Ahmed Shuja Pasha.
After the meeting, the leaders said they had agreed to upgrade a joint peace commission in an attempt to end the Taliban insurgency.
Mr Gilani described the talks as "historical and unprecedented".
'Tripartite'
Mr Karzai said the joint peace commission, which had been at the level of foreign ministers, had been upgraded to the highest governmental level.
He said he had discussed the move with US President Barack Obama, and said the move had the support of the US.
"We welcome the participation of the US in this tripartite arrangement... We have recently seen more interest by the US in the peace process," he told the news conference.
He said talks with the Taliban would be addressed within the framework of the joint commission.
The original commission was set up in January.
The talks are about forging a new chapter in Afghan-Pakistan relations after years of tension, says the BBC's Jill McGivering.
Before leaving for Kabul, Mr Gilani told reporters in Pakistan that he was taking a "message of love for the Afghan people" and would extend complete support to his country's neighbour.