Communists challenged in India's West Bengal state poll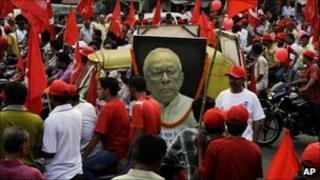 Voting has ended in the first phase of legislative elections in the eastern Indian state of West Bengal.
The state's government, the world's oldest democratically-elected Communist administration, is being challenged by an opposition led by India's Railway Minister Mamata Banerjee.
The election is being held in six phases. Votes are due to be counted on 13 May.
The poll is the latest in a series of important state elections in India.
Voting has already been completed in the southern Indian states of Tamil Nadu and Kerala, the north-eastern state of Assam and the union territory of Pondicherry.
Polling is being held in 54 constituencies in the first phase of West Bengal's elections and 9.74 million voters are eligible to vote on Monday.
Large numbers of paramilitary troops and state police have been deployed in the constituencies where voting is being held, spread across six districts in north Bengal, to ensure the vote passes off peacefully.
Ms Banerjee, who leads the opposition Trinamool Party, has accused the Communists of failing West Bengal's 90 million people by causing its recent economic decline.
A high voter turnout is expected.