Rift over Sri Lanka president's call for anti-UN rally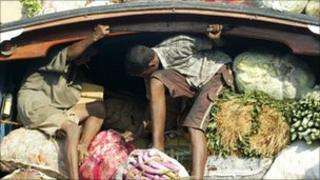 Trade unions affiliated to Sri Lanka's ruling coalition are divided over the president's call for mass protests against a UN report.
The leaked summary of the report allege that war crimes were committed at the end of the civil war when the government troops crushed the rebels.
President Mahinda Rajapaksa said the claims were not new but called for a "show of strength" against the report.
But unions say the May Day protest should be reserved for workers' issues.
Responding to a leak of the reports in a Sri Lankan newspaper, Mr Rajapaksa told party officials May Day gatherings should be used to protest.
But trade unions affiliated to the Lanka Sama Samaja Party (LSSP) and Communist Party (CP) - both members of the ruling coalition - are angry about the president's call.
"The challenge for the workers at the moment is not the UN but the IMF," TMR Rasooldeen of Ceylon Workers Union affiliated to LSSP said.
He said the workers should focus on "IMF -sponsored" new pension scheme instead of "political issues" on May Day.
The union affiliated to president's Sri Lanka Freedom Party (SLFP) said it will support Mr Rajapaksa's call.
The UN-appointed inquiry gathered evidence for 10 months and submitted its findings to UN Secretary General Ban Ki-moon several days ago.
"The panel found credible allegations, which if proven, indicate that a wide range of serious violations were committed [by both sides]," the report says, according to excerpts quoted by the Associated Press.
Sri Lanka's government, which also received a copy of the report, described it as "fundamentally flawed and patently biased."
Both sides were accused of atrocities in Sri Lanka's long conflict. The Tamil Tigers were fighting for an independent homeland for minority Tamils in the island's north and east.
The BBC has heard numerous allegations from Tamils that their relatives are missing, among them a number of senior rebel fighters.