Strike by Air India pilots halts domestic operation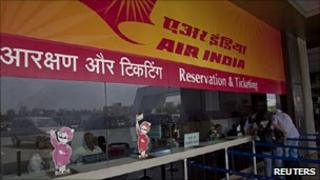 The domestic operations of Air India have come to a virtual halt as the pilots' strike entered its sixth day.
Nearly 90% of its domestic flights have been affected, the state-run airline said, and added that its international operations were normal.
Some 660 pilots are on strike demanding parity of pay and better conditions.
The striking pilots say they are being victimised because their colleagues on international routes earn up to 200,000 rupees ($4,500) more a month than them.
The Delhi High Court last week ordered the strikers to return to work.
But despite the order, the pilots say they will carry on with their protest.
Airline officials say there will be no talks with the striking pilots till they get back to work.
The court is due to hear criminal proceedings against the protesters on Monday.
Indian Airlines merged with Air India in 2007 and since then its pilots have frequently complained about their poor conditions of employment.
The Air India management says it no longer recognises the Indian Commercial Pilots' Association (ICPA) - to which many of the striking pilots belong.
The company has described the ICPA action as "illegal, unfortunate and most irresponsible".