Indian PM urged to intervene in Air India strike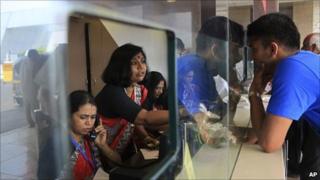 Striking Air India pilots have written to Prime Minister Manmohan Singh asking him to intervene in the dispute "on an urgent basis" to help find a solution.
The domestic operations of Air India remained stricken on Wednesday with pilots continuing their strike over pay and conditions for the eighth day.
However, informal efforts have been mounted to begin talks between the strikers and management.
The airline says it has taken a number of measures to minimise the impact.
These include providing 18 flights - 16 domestic and two international - with aircraft chartered from Kingfisher Airlines and Air Arabia.
Air India says that it has also opened "assistance counters" at airports for affected passengers, strengthened its call centre operation to disseminate the latest information on the strike, and provided refreshments and hotel accommodation to some stranded passengers.
But the striking pilots say that the airline has lost lucrative routes to private operators while expensive aircraft have been acquired on lease with no plans for their deployment.
"Suspensions and terminations of employees' [contracts] are routinely being used as threat tactics to create fear psychosis and force us into submission," the letter written by the pilots says.
It accuses the airline's chairman and managing director Arvind Jadhav of "demoralising and alienating employees" by making "humiliating remarks in the media, deferring salaries and cutting benefits for family members".
The letter went on to say that the "entire administrative structure of the airline has been systematically crushed" because Mr Jadvav has quarrelled with "almost all directors, executive directors and general managers resulting in a complete vacuum in decision making".
'Illegal' strikes
Some 660 pilots are on strike demanding parity of pay and better conditions.
The striking pilots say they are being victimised because their colleagues on international routes earn up to 200,000 rupees ($4,500) more a month than them.
Indian Airlines merged with Air India in 2007 and since then its pilots have frequently complained about their poor conditions of employment.
In recent days Mr Jadhav has sent text messages to more than 30,000 airline employees urging the striking pilots to attend talks.
"In order to save our airline, I appeal to you to co-operate and to persuade our pilot friends to return to work and let discussions start afresh," the message said.
He accused the striking pilots of carrying out "illegal strike action" which was threatening the airline's survival.
Nearly 90% of Air India's domestic flights have been affected in recent days, the state-run airline said, but international operations remain normal.