Pakistan: Eight killed in Quetta explosion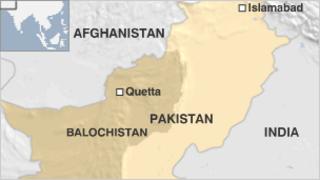 At least eight people belonging to Pakistan's minority Shia community have been killed in an explosion in the south-western city of Quetta.
Police said the cause of the blast, which wounded 10 others, was not clear.
One report said suspected militants had opened fire on a group of Shias and fled. Others said rockets were fired on the men.
Sunni and Shia extremists have frequently clashed and launched attacks on each other over the past 20 years.
Correspondents say attacks in Karachi, Peshawar, Quetta and the north-west seem to be manifestations of the bitter split between Sunnis and Shias.
In January at least 10 people were killed when twin blasts targeted Shia processions in Lahore and Karachi.
And in September 2010 at least 50 people died in a suicide bombing at a Shia rally in Quetta.
The group accused of orchestrating the violence in recent years is Lashkar-e-Jhangvi, widely seen as the armed wing of the militant Sunni Sipah-e-Sahaba group.