Afghan forces not ready for security role, Oxfam warns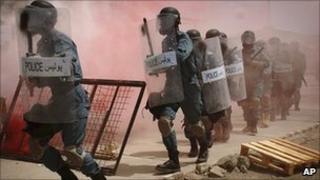 Afghan forces are not ready to take over responsibility for security from Nato, a leading British charity says.
Oxfam warned that more training is needed and human rights violations by Afghan forces could increase as they take on the frontline role.
Afghan forces are due to take full responsibility for national security from 2014.
Some Nato forces have faced calls for an earlier withdrawal following the death of al-Qaeda boss Osama Bin Laden.
The Afghan government has not publicly commented on Oxfam's report.
Last year, President Hamid Karzai said the decision to transfer military control would give every Afghan a stake in the future of their country.
'Trust and confidence'
According to the Oxfam report, entitled No Time to Lose, "there are serious concerns regarding the professionalism and accountability" of the Afghan security forces.
"There is a serious risk that unless adequate accountability mechanisms are put in place, violations of human rights and humanitarian law will escalate - and Afghan civilians will pay the price," the report says.
It estimates that 40,000 Afghan police officers have had no training at all. Oxfam says there are no effective systems for civilians to lodge complaints against police or soldiers.
"The Afghan people have high hopes for their security forces," said the report's author, Rebecca Barber.
"They need to know these forces will protect them and be brought to justice if they commit abuses."
Limited US troop withdrawals are due to begin in July.
In March, US Defence Secretary Robert Gates said America was "well-positioned" to begin pulling out its forces in July.