Grameen Bank founder Muhammad Yunus quits top post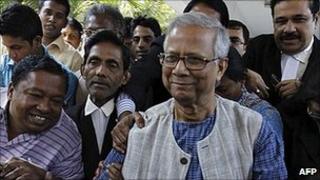 The founder of the pioneering Bangladeshi micro-lending Grameen Bank is standing down as its head after a long-running row with the government.
Nobel laureate Muhammad Yunus said he was relinquishing his post to prevent undue disruption of the bank's work.
Earlier this month the Bangladeshi Supreme Court dismissed a final appeal by Mr Yunus to overturn his sacking.
Authorities said he was over the legal retirement age, but supporters say his dismissal was politically motivated.
Prof Yunus, 71, launched the Grameen Bank in the late 1970s to offer microcredit to the poor. The model has been copied in developing countries around the world.
He is often referred to as "the world's banker to the poor".
The Bangladesh central bank removed Prof Yunus from his post last March, saying his continuing role at Grameen Bank violated laws that state public servants must retire at the age of 60.
A lengthy legal row ended at the Supreme Court on 5 May, but in a statement on Thursday Prof Yunus said he had still not received the full court order and was relinquishing the post of managing director.
"I am taking this step... in order to prevent undue disruption of the activities of Grameen Bank and to ensure my colleagues and our eight million members, and owners of the bank, are not subjected to any difficulty in discharging their responsibilities," his statement said.
The bank and Prof Yunus were jointly awarded the Nobel Peace Prize in 2006 for helping millions out of poverty with small loans.
Analysts say Bangladeshi Prime Minister Sheikh Hasina fell out with Mr Yunus in 2007 when he tried to set up his own political party.
At the time, Bangladesh was ruled by an interim-government which was backed by the country's powerful army.
The sacking of Mr Yunus has sparked criticism from some of the country's foreign donors, particularly the US.