Indian PM Manmohan Singh addresses Afghan parliament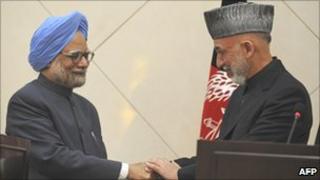 Indian Prime Minister Manmohan Singh has told a joint session of the Afghan parliament that their two countries are united in fighting terror.
He also backed efforts to bring peace to Afghanistan through reconciliation with Taliban insurgents.
His visit comes just over a week after al-Qaeda chief Osama Bin Laden was killed by US commandos in the Pakistani town of Abbottabad.
India and Afghanistan share concerns over militant networks in Pakistan.
"Terrorism and extremism are alien ideas to our people. They only bring death and destruction in their wake" he said, adding: "We cannot and must not allow the flames of extremism and terrorism to be fanned once again."
Correspondents say it is a rare honour for a foreign leader to address the Afghan parliament. He is the first premier to give a speech to the joint houses in recent years and this is being seen a sign of the deepening links between the two countries.
On Thursday Mr Singh pledged $500m (£308m) in aid to Afghanistan, which comes on top of $1.5bn already promised to the war-torn country.
The money will be spent on agriculture, schools and roads. India is already building the new parliament in Kabul - at a cost of $19m.
India is the biggest regional donor to Afghanistan and correspondents say India's promise of more funds is likely to raise Pakistani fears about Delhi's influence in Afghanistan.
Endorsing reconciliation
Although analysts point to a shared mistrust of Pakistan, Mr Singh did not mention Pakistan in his speech to the parliament.
In the past India has been suspicious of Afghan efforts to negotiate with the Taliban because of fears of the role arch-rival Pakistan could take in such talks and in any subsequent agreement.
But in his speech Mr Singh stressed that Afghan MPs should be left to make decisions about their country's future "without outside interference".
"India will respect the choices you make," he said. "Our only interest is to see a stable, peaceful and independent Afghanistan living in peace with its neighbours."
Afghan President Hamid Karzai has set up a peace council to try and make peace with the Taliban in an effort to bring an end to the bloody insurgency, which has left large swathes of the country wracked by violence.
"Afghanistan has embarked upon a process of national reconciliation. We wish you well in this enterprise," Mr Singh said.
The two leaders held discussions on Thursday about regional stability, counter-terrorism and the India-Afghanistan strategic partnership.
Although this visit was planned well before the US raid on Bin Laden, correspondents say that with Pakistan's international reputation damaged, Delhi may see an opportunity to nudge Kabul closer to its side.
The growing closeness between the two countries has infuriated Islamabad, which also wants to increase its influence in Afghanistan.