The Reds are out, the Greens are in!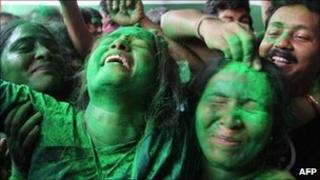 That's what delirious supporters of Mamata Banerjee scream outside her home in Calcutta after news begins pouring in of her Trinamool Congress party whipping the communist-led alliance at the polls, leading to their departure after an uninterrupted 34-year-old reign.
"I feel freedom, I feel unshackled," a middle-aged supporter smeared in green, the party colour, shouts over the din of festivities.
It is a historic moment in the history of Bengal - a generation has grown into middle-age under the communist-led alliance - and a sticky, hot morning has not dampened the festivities in the impossibly narrow lanes leading to Ms Banerjee's home.
Hundreds of party supporters are squeezed into the lane outside the house, many smeared in green, shouting slogans and waving party flags. Inside a tent for the sweating, dehydrated journalists, supporters sitting on green plastic chairs are glued to a big screen TV showing the poll results. "Whole hearty greeting from International Human Rights Protection Association for a shining and bright future," says a card stuck on a huge bouquet which stands forlornly beside the TV screen. Nobody really knows who brought it, and what this organisation is all about. A few supporters faint in the heat, leading to some quiet panic. And then the slogan shouting rises again in crescendo, drowning out appeals for some drinking water for the fainting supporters.
An epic defeat of a formidable adversary has led to a carnival. Ms Banerjee's party flags and bunting flutter from home and shop fronts. A makeshift kitchen serves free food to the legions of supporters who have arrived to celebrate the win. "Have some food, have some food," implores a happy supporter who runs after me. On the main road outside taxis and auto-rickshaws decked out in party colours arrive packed with supporters to share the fun and food. There are hoardings and posters of Ms Banerjee - or "Didi" (elder sister), as she is more popularly known - looming all around and over us. Her presence is overwhelming, even as rumours of her making an appearance gather momentum.
Then the doors of her house open, and Ms Banerjee steps out to greet her supporters. Its midday - a good five hours after the counting began - and a roar rises from a mass of sticky, humid, boisterous humanity. "It's a victory of the people, democracy. It's a victory for Ma-Mati-Manush [her war cry]. I want to dedicate this victory to the people, the media," she says in Bengali, before switching to English for the benefit of the Delhi media. The rest of the speech is inaudible in the din, and then, suddenly, she is gone, scurrying indoors to confer with her aides. Meanwhile, the first crackers begin bursting, throngs of supporters fight with the harried security men to enter the lane, a supporter wearing a party bandana faints. When I step out of this merry mob, drenched in sweat, a rain of green colour descends from the skies.
The Reds are out, the Greens are in!