India unions urge Mumbai rickshaws makeover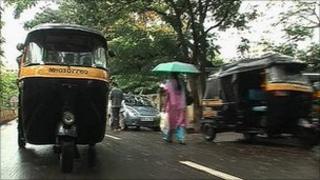 Auto rickshaws in Mumbai (Bombay) should be given a revamp to make them more comfortable, a union which represents drivers has said.
The Mumbai Rickshawmen's Union has drawn up a plan for a new type of auto rickshaw, which it says it will submit to state authorities and manufacturers.
The union represents more than 1,000 of the city's 200,000 drivers.
It says that 80% of its members have sustained injuries because of the small size of the vehicles.
A driver spends an average of 10 hours a day on the roads, their union says.
"Our operators are suffering in a major way," says Fredrick Dsa, the president of the Mumbai Rickshawmen's Union.
"They have to sit in a very erect position while they are driving and there is hardly any leg movement for him and no support for his back."
There are a number of auto rickshaw manufacturers in Mumbai. They have not yet responded to Mr Dsa's plans or his claims about size and comfort of rickshaws on the road.
'Occupational hazard'
The new auto rickshaw design has more leg room, back support and a higher roof.
It proposes raising the roof (currently 36in above the driver, and 38in above passengers) by 3in to make for a more comfortable ride.
There are concerns too for the health of many passengers who navigate the city's roads in "autos".
Mr Dsa is calling for rickshaws to be made with better shock absorbers and suspension and for a more comfortable back seat which would accommodate three passengers.
He argues that the current design makes it a squeeze for only two to sit.
"We don't want the drivers to become a victim of an occupational hazard," says Mr Dsa, who points out that rickshaw operators have no access to social security and so are "compelled" to work despite the pain.
"The average rickshaw driver earns less than 180 rupees ($4; £2.50) a day, and isn't covered by insurance," Mr Dsa said.
"The day he doesn't drive his auto rickshaw is the day he suffers hunger."
The union represents the majority of the city's drivers and has been calling for similar changes for some time, its president, Shashank Rao, said.
Mr Rao believes the uncomfortable driving conditions are not helped by the uneven state of Mumbai's roads.
"If you see the way the drivers drive, the position they sit in and the road conditions - they get a lot of jerks. It's these jerks which cause severe problems in the spine," he says.