Seven Indian policemen killed in mine attack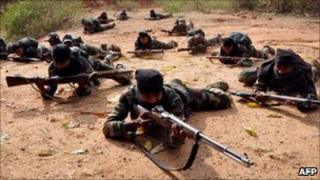 At least seven policemen have been killed in a mine explosion by Maoist rebels in the central Indian state of Chhattisgarh, police say.
They say that the Maoists attacked a police convoy on Tuesday night near the town of Sukma in Dantewada district.
Five policemen were killed on the sport while two died later in hospital.
Maoists are active in several states in central and eastern India. They say they are fighting for the rights of indigenous tribals and the rural poor.
Last year, the rebels killed 74 policemen in the same district.
India's prime minister has described the Maoist insurgency as the country's biggest internal security challenge.