India: Fierce storm kills dozens in north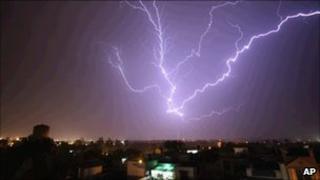 Fierce winds accompanied by swirling dust and thunder storms have killed 37 people in northern India.
Police in Uttar Pradesh said 26 people had died in the state, while 11 deaths were reported from neighbouring Bihar.
In Uttar Pradesh, eight members of a wedding party were killed when a tree, uprooted by fierce winds, fell on their jeep in Siddhartnagar district.
The death toll is likely to rise as details from remote districts are still coming in, officials say.
In Bihar, the storm has caused large-scale destruction.
Electricity poles and wires have been uprooted and mud-thatched homes have been damaged in the districts of Purnia, Kishanganj, Katihar and Araria.