Pakistan probe into killings of five unarmed foreigners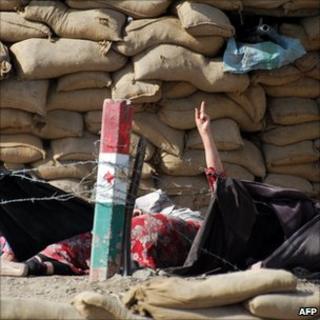 An inquiry has been ordered in Pakistan into the killings of five foreigners - including three women - by security forces outside Quetta on Tuesday.
Initially, the authorities claimed the dead, who were said to be Chechens, were al-Qaeda-linked suicide bombers.
However, it has since emerged that they were unarmed, and that one of the women was pregnant.
Human rights workers say security forces in Pakistan are rarely held to account for unlawful killings.
Hail of bullets
The killings - at a checkpost on the outskirts of Quetta - were caught on camera.
Two wounded women are visible, lying on the ground. They hold hands, perhaps trying to comfort each other.
One woman raises her arm - in what looks like a gesture of surrender, or plea for help.
But the response from the security forces was a hail of bullets. There were no survivors.
Initially the authorities claimed the women and their companions were suicide bombers, ready to carry out an attack.
The official line has changed several times since then.
The local police chief now says the five were killed when their own hand-grenades exploded.
But bomb disposal experts say there were no grenades, or suicide vests found with the bodies.
And an autopsy has revealed that one of the dead women - who was shot at least 12 times - was heavily pregnant.
The inquiry into the incident is to come to a conclusion within 10 days.