Afghan cricketers first to tour Pakistan in two years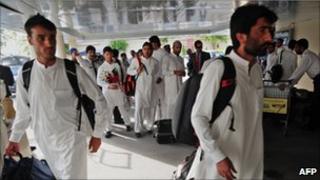 Afghanistan's cricket team will play the first of three one-day matches against Pakistan on Wednesday.
The Afghan side is the first foreign squad to tour Pakistan since militants attacked the Sri Lankans in March 2009, killing seven Pakistanis.
The Afghans will play Pakistan's "A" team led by paceman Sohail Tanvir.
Meanwhile Sri Lanka have turned down an offer to tour Pakistan for security reasons. A spokesman hoped Colombo or a neutral venue could host matches.
The Pakistan Cricket Board (PCB) had been keen to persuade the Sri Lankans to tour the country, which has seen a recent spate of attacks by militants.
Rapid progress
Afghanistan will take part in three matches to be played in Islamabad on 25 May, Rawalpindi on 27 May and Faisalabad on 29 May.
"It is a big opportunity for the Afghanistan cricket team and I am sure the boys will take this to learn more and more," coach Rashid Latif told the AFP news agency.
"This is an official tour and every tour has its significance," said Latif, a former captain of Pakistan who took over as Afghanistan coach last year.
"The tour is approved by the Afghan government and I am sure this will be a small step towards reviving international cricket in Pakistan."
Cricket was made popular in Afghanistan by refugees who had fled to Pakistan when Soviet troops invaded their country in 1979.
Afghanistan have progressed quickly at international level, finishing fifth in the World Cup 2011 qualifiers in 2009 and earning one-day status the same year.
They also won the World Twenty20 qualifiers that allowed them to play with top teams in the World Twenty20 in the West Indies last year.
Last week the PCB decided not to host one of the matches in Abbottabad, the town where Osama Bin Laden was killed earlier this month.
A PCB source told the Reuters news agency that the decision had been taken for security reasons on the advice of the interior minister.