Pakistan returns helicopter used in Bin Laden operation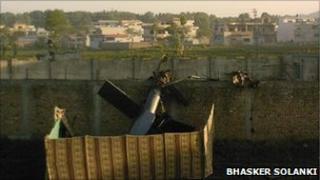 Pakistan has returned the wreckage of a US helicopter destroyed during the raid that killed al-Qaeda leader Osama Bin Laden, the Pentagon has said.
A spokesman said the remains of the aircraft were back on US soil having been returned "over the weekend".
It is believed the helicopter was a UH-60 Blackhawk, heavily modified to make it quieter and less visible to radar.
After developing problems, the helicopter - one of up to four used during the 2 May raid - was blown up.
The team of Navy Seals did not want sensitive technology falling into enemy hands.
"The wreckage of the helicopter destroyed in the Bin Laden operation was returned over the weekend and is now back in the United States," said Pentagon spokesman Col Dave Lapan.
Its delivery meets a key US demand of Pakistan following the mission to kill the al-Qaeda leader, which Islamabad called a violation of its sovereignty.
Pakistani officials were not told of the raid before it took place in Abbottabad, only 30 miles (50km) from Pakistan's capital, Islamabad.