Suicide truck bomb razes Pakistan police station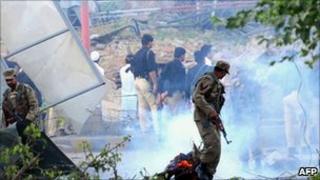 Four people have been killed and 22 others wounded in a suicide lorry bomb attack on a police station in Peshawar, in north-west Pakistan.
The force of the blast flattened the building, police said. Emergency workers were searching for bodies and survivors in the rubble.
The building was close to Pakistani army facilities and the US consulate.
Pakistani Taliban said they carried out the attack, several of which have taken place since Osama Bin Laden was killed.
The deadliest attack was a twin suicide bombing which killed more than 80 people, most of them paramilitary recruits, in the north-west two weeks ago.
Last week, the Pakistani Taliban bombed a US consulate convoy in Peshawar, killing one Pakistani passer-by and wounding 10 others.
On Monday, troops ended a siege by militants who attacked a naval air force base in Karachi, killing at least 16 people - including 10 soldiers.
'Huge blast'
Police said the target of the latest attack was the building that housed the police's criminal investigation department.
"It was a huge blast which completely destroyed the three-storey building," AFP news agency quoted Liaqat Ali Khan, chief of police in Peshawar, as saying.
Police say rescuers are trying to pull out the remaining two or three people thought to be trapped under the rubble.
The building is in Peshawar's cantonment area close to the US consulate. Security is usually tight there.
Constable Farid Khan told AFP he had been saying his morning prayers inside the police station when the explosion happened.
"The roof of the building collapsed," he said.
Constable Khan's shoulder fractured leaving him immobile until his colleagues took him to hospital.
A spokesman for Pakistan's Taliban said the attacks would continue until the US drone strikes and Pakistani military operations were stopped in the tribal regions bordering Afghanistan.
"We will further step up these attacks to avenge Osama Bin Laden's martyrdom," AFP quoted Ehsanullah Ehsan as saying.