Daughter of Indian diplomat sues NYC for $1.5m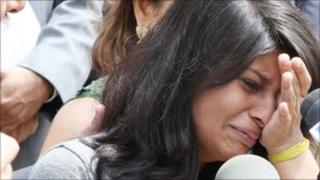 An Indian diplomat's daughter is suing New York City's government for $1.5m after she was wrongfully arrested on suspicion of sending obscene e-mails.
Krittika Biswas was alleged to have sent the e-mails to her high school teacher in February. She was subsequently cleared of the offence.
Her lawyer said that she was unlawfully held by the US authorities for more than 24 hours after her arrest.
There has so far been no comment on her claim from the US authorities.
Ms Biswas - the daughter of the vice counsel at the Indian consulate in Manhattan - claimed that she was ill-treated in prison and was forced to go to the toilet in front of other prisoners.
Her lawyer Rajiv Batra said her arrest on 8 February was a violation of international law, US federal law as well as US state and city law.
He said that the 18-year-old had diplomatic immunity that prevented her from being arrested. US authorities are reported to have argued that immunity did not extend to family members of a diplomat.
She was eventually allowed back into the Queens' John Bowne High School when it emerged that she had not sent the offending e-mails.