Baba Ramdev: India police break up yogi's Delhi protest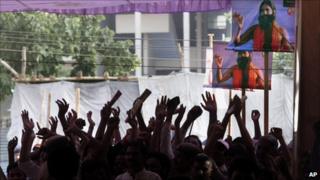 Police in the Indian capital Delhi have broken up an anti-corruption protest led by controversial yoga guru Baba Ramdev.
Around 30 people were injured as police fired tear gas to disperse thousands of his supporters, reports said.
He had been fasting to demand that the government takes action to recover billions of dollars of suspected bribe money held in foreign bank accounts.
Baba Ramdev was detained by police but later released.
The police action followed angry exchanges between the authorities and Baba Ramdev over whether his demands had been accepted.
He says he has no political affiliations, but his protest was backed by the main opposition party, the Hindu nationalist BJP.
His protest comes as the Congress-led Indian government is struggling with a corruption scandal surrounding the sale of mobile phone operating licences.
Baba Ramdev has also called for the death penalty for corrupt government officials.