Two policemen killed and five abducted in Afghan attack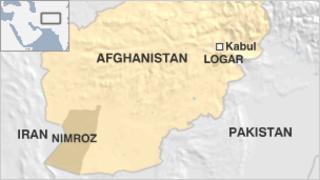 Two policemen have been killed and five others abducted in a Taliban attack on a checkpoint in southern Afghanistan, officials say.
They said two of the other policemen at the checkpoint "were Taliban puppets" and had told them when to attack.
Weapons, ammunition and equipment were also captured in the attack in the province of Nimroz on Sunday.
Meanwhile police have said the bodies of 13 men have been found in two separate locations in Logar province.
A spokesman told the AFP news agency they included an Afghan soldier, a tailor working with coalition troops and an unidentified civilian.
"The army trooper was beheaded with a blunt knife, the tailor was shot in the chest and the unidentified man was shot in the head," he said.
The spokesman added the bodies of 10 other men had been found elsewhere in Logar after they were kidnapped on Sunday.
In Nimroz province, Hashim Noorzai, district governor of Khash Rod, told AFP the rogue policemen had since disappeared.