India: Strike at Maruti Suzuki enters third day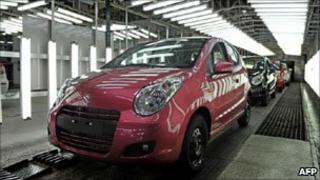 A strike by workers at India's top car maker Maruti Suzuki has entered its third day and disrupted production.
About 800 workers at the factory in the northern state of Haryana have been on strike demanding recognition of a new workers' union, reports say.
The company, which has one workers' union, has already dismissed 11 striking employees, a spokesman said.
Maruti Suzuki, a joint venture partner of Japan's Suzuki Motor Corporation, has 50% of India's booming car market.
The strike has affected production at the company's main factory in Manesar in Haryana, which makes more than 1,000 cars a day.
The loss due to the strike has been estimated at 1bn rupees ($22m) so far, the company says.
It has two factories in India and plans to spend more than $1bn over the next three years to boost capacity in a market where vehicle sales grew by a record 30% last year.