India Maoists kill 10 police in Chhattisgarh mine blast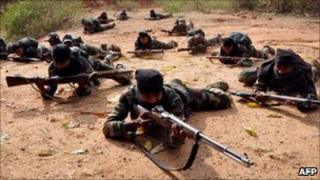 Ten policemen have been killed and four injured in a landmine blast detonated by Maoist rebels in the Indian state of Chhattisgarh, police say.
The attack took place as the policemen were travelling in a vehicle in the restive Dantewada region.
It comes hours after five policemen were killed in a rebel ambush in Narayanpur district in the state.
Maoist rebels say they are fighting for the rights of indigenous tribal people and the rural poor.
They are active in several eastern and central states. In one of the most deadly attacks last year, rebels killed 74 policemen in Dantewada.
India's prime minister has described the Maoist insurgency as the country's biggest internal security challenge.
Police said Thursday's night attack happened when the vehicle carrying the policemen ran over a Maoist landmine in the Katekalyan area.
"The policemen were returning to their base after conducting an operation in the area when the incident happened," police official Ankit Garg said.
The BBC's Salman Ravi in Raipur says that the explosion was so powerful that it tore apart the vehicle, which the police said was built to withstand landmines.
The police said the rebels were hiding near the site of the explosion and opened fire on the injured policemen.
Earlier on Thursday, five policemen were killed when heavily armed Maoist rebels ambushed them at Jharaghati in Narayanpur district.
And late last month, 10 policemen, including one senior officer, were killed and dismembered by Maoist rebels in the densely-forested Gariyaband area on Chhattisgarh's border with Orissa state.
A government offensive against the rebels - widely referred to as Operation Green Hunt - began in late 2009.
It involves 50,000 troops and is taking place across five states - West Bengal, Jharkhand, Bihar, Orissa and Chhattisgarh.