Afghan suicide blast kills Kunduz policemen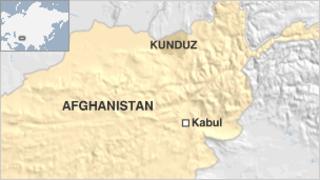 At least three policemen have been killed by a suicide bomber in the northern Afghan city of Kunduz, officials say.
Authorities said the bomber had blown himself up after he was prevented from entering a mosque in the city.
People had been gathering at the mosque to remember a slain regional police commander when the incident happened.
Kunduz province was once a relatively quiet part of the country but has become more unstable in recent months.
Authorities quoted by the Associated Press news agency said that the bomber was trying to enter a mosque where people were mourning regional police commander Gen Mohammad Daud Daud, who was killed in a suicide attack last month.
Gen Daud is a former military commander of the Northern Alliance, the Afghan forces who fought the Taliban when they were in power.
Provincial spokesman Mahboobullah Saeedi told AFP news agency that the bomber had targeted the provincial police chief, who escaped unhurt.
Afghanistan has seen a series of attacks in recent months by militants on police and military targets.