Pakistan soldiers held over videoed killing in Karachi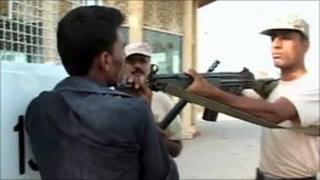 Police in Karachi, Pakistan, say they have arrested two paramilitary soldiers seen on video killing a young man.
Video footage shows the man, Sarfaraz Shah, begging for his life before being shot by six members of the Sindh Rangers paramilitary force.
The Rangers say the young man was caught trying to rob someone. His family denies this.
An inquiry is already under way into the killing of five unarmed Chechens last month by the security forces.
The video from Karachi, which has been broadcast widely on Pakistani television, is disturbing to watch.
It shows a young man in a black T-shirt being dragged by his hair in a public park by a man in plain clothes.
He is pushed towards a group of Sindh Rangers who are in uniform and armed. The young man, who does not appear to be armed, pleads for his life as one of the Rangers points a gun at his neck.
A little later, a Ranger shoots him twice at close range, hitting him in the thigh. The young man is seen writhing on the ground, bleeding heavily and begging for help.
The paramilitaries remain close to the injured man but do nothing to help him. He died from his injuries.
The journalists' union in Karachi have said that the TV cameraman who shot the video had received threats and was being "pressured [by authorities] to say it was a fake".
Sarfaraz's brother, Salik Shah, said he had been the victim of an extrajudicial killing.
The incident has sparked an outcry with some politicians calling for the Rangers involved to be prosecuted.
It comes as a separate inquiry is under way in neighbouring Balochistan Province into the killing of five Chechens by members of the paramilitary.
Five civilians, including a heavily pregnant woman, were shot dead at close range in the western city of Quetta, despite apparently trying to surrender.
Officials initially said that the five family members were armed and were suicide bombers - but this was later found to be untrue.