Indian state to return Tata factory land to farmers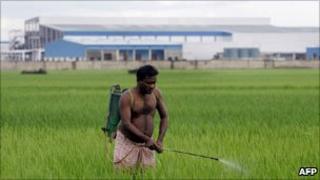 Legislators in the Indian state of West Bengal have passed measures to return land to farmers which was forcibly acquired to make way for a car factory.
The chief minister of West Bengal, Mamata Banerjee, said the move would undo the injustice to farmers.
The land in Singur, near Calcutta, was acquired by the state's former communist government in 2006 for Tata Motors to make its low-cost Nano car.
After months of violent protests, the company pulled out of West Bengal.
Tata Motors then went on to set up a new plant in the western state of Gujarat.
Last month, Ms Banerjee won a landslide victory in West Bengal against the state's long-serving communist government, on the promise that she would restore the land.
The draft law would allow for the return of about 400 acres of land to farmers who never accepted government compensation for their land. Some legislators have criticised the bill, saying it was introduced in haste. Others have demanded that the entire 997 acres of land taken for the project should be restored.
In a statement, Tata Motors said it would study the draft law and take appropriate steps.