Indian anti-graft hunger strike activist dies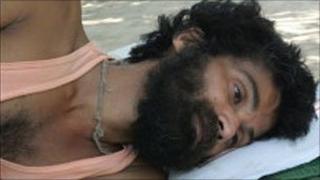 An Indian activist who went on a hunger strike in February to protest against illegal mining has died in a hospital in northern Uttarakhand state.
Swami Nigamanand, 36, slipped into a coma in May, days after being hospitalised.
Officials said the government had banned mining in the Kumbh region as demanded by the activist.
But federal Environment Minister Jairam Ramesh has blamed the state government for "ignoring" the activist's pleas.
A founder-member of a group called Matri Sadan, Swami Nigamanand went on a hunger strike on 19 February demanding a ban on mining around the Ganges river in the Kumbh region in Uttarakhand state.
He was hospitalised on 27 April after his condition deteriorated and he went into a coma on 2 May, doctors said.
The post mortem report said that Swami Nigamanand's death on Tuesday had been caused by "coma, septicaemia and degenerative brain disorder".
Meanwhile, the head of Matri Sadan, Swami Shivanand, has alleged that the activist was "given a poisonous injection" by doctors, leading to the worsening of his condition. Doctors deny the charge.
India's Environment Minister Jairam Ramesh said he was "extremely sorry" that Swami Nigamanand "who was fasting, has died".
"Illegal mining is rampant in Uttarakhand and enjoys political patronage at the highest levels... But no action was taken," Mr Ramesh said.
India has seen a number of hunger strikes against corruption recently by prominent activist Anna Hazare and popular yoga guru Baba Ramdev.
Correspondents say Swami Nigamanand's fast was completely overshadowed by the strikes by Mr Hazare and Baba Ramdev and received little media attention.