Afghanistan: Bomber kills seven in Kapisa province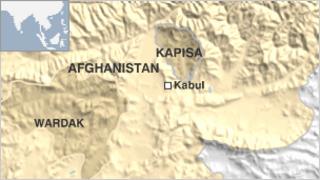 A suicide bomber in a car laden with explosives has killed himself and at least seven people in Afghanistan, the interior ministry has said.
The attack happened in Kapisa province, north-east of the capital Kabul.
Provincial spokesman Halim Ayar told the AP news agency that the attacker blew himself up about 200m from the office of Governor Azizul Rahman Tawab.
Meanwhile Vice President Karim Khalili and Interior Minister Besmullah Mohammadi escaped a rocket attack.
The mortar attack happened as they were visiting a new police training centre in Wardak province, officials said.
Correspondents say that both attacks, which occurred at about the same time, are a stark reminder that insurgents can strike with impunity across the country.
Mr Ayar said that four of the dead in the Kapisa attack were police officers and the remainder were civilians. At least seven wounded people were also civilians, he added.
"The leadership of the ministry of the interior of Afghanistan condemns this inhumane and cowardly suicide attack. Such attacks will never weaken the determination of the Afghan National Police," the ministry said in a statement.
Taliban spokesman Zabiullah Mujahid told the AFP news agency that they had carried out the Kapisa attack, which he said had targeted the French ambassador to Afghanistan and French soldiers who were visiting the governor's office at the time.
French Ambassador Bernard Bajolet told AFP he was 15 minutes away when the attack happened and that his impending visit had been publicly known.