The Burmese teenagers who fled to India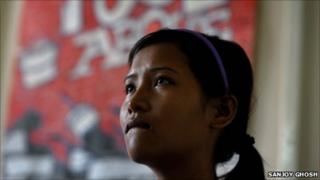 On lonely nights in Delhi's boiling summers, Lai Ram Thang yearns to return to his bamboo and thatch village home in balmy Chin state in western Burma.
Hriphi, says the 17-year-old boy, is a simple village where simple people live.
His family owns - or owned, he doesn't know now - a bit of land which he helped his father to farm. It has a single primary school, a midwife, no hospitals and no cinema. His family doesn't own a television and has no telephone.
Lai Ram's placid life turned upside down last summer when he went to collect firewood from a nearby forest with three friends.
"That was where we met the soldiers. They tried to snatch our wood. When we refused, they hit a friend with a block of wood," he says.
Harrowing tales
"He cried, 'Run, run for your lives'. I ran and ran till I met two men walking down a road and begged them to help me escape. They took pity, walked me to another village where the headman told me that I had to flee. So we left for Mizoram in India and then after a couple of bus and train journeys arrived in Delhi," says Lai Ram.
He is one of some 650 unaccompanied young people who have fled mountainous Chin state across the porous border to India. Crossings between the two countries in this region are fairly common as locals trade with each other and the border is not tightly controlled.
The young Chins are among 9,000 or so Burmese refugees and asylum seekers registered with the UN refugee agency, UNHCR, in India.
For three years the teenagers have been arriving in India with harrowing tales of army torture, forced labour, conscription and sexual assault. They make their journey by foot or jeep to the border with Mizoram, bus it to the state capital Aizawl and then on to Guwahati in neighbouring Assam state. From there they take the train to Delhi.
"They are the most vulnerable group. It's not easy for them to adjust to a big city. Many of them need counselling," says Yamini Pande of UNHCR.
Life is tough in the unforgiving Indian capital. Locals mock the children as "Nepalese" because of their features. The girls face sexual jibes. They live together in groups and rent cheap homes.
Freedom
But a life in exile in Delhi has, ironically, has opened up a whole new world for Lai Ram.
"I don't like a lot of things here, but I like the freedom it offers me. There is no military here to be scared about," he says.
By day, he attends language and computer classes under a UNHCR programme. After work, he returns to a one-room flat he shares with another refugee from Chin, and watches Manchester United games on TV.
Lai Ram's estrangement from his family is the biggest tragedy of his forced exile in an unknown land. But listen to the story of Vung Boih, a 17-year-old girl with sad, faraway eyes, and you realise that fate can be infinitely more cruel.
Vung's father was a Christian evangelist in a village called Bapi. One day in July last year, she says, a group of soldiers came and beat him to death.
"They had warned him to stop going around preaching. He paid with his life," says Vung.
The day after the murder, a soldier came home, and finding Vung alone, raped here. He threatened to kill her if she told anybody about it, she says.
Vung says she told a friend anyway. The word spread in the village and reached the neighbouring army camp. A friend advised her to run away if she wanted to live.
Homesick
"I fled alone," says Vung, "I walked from my village to the Indian border, slept at a friend's place in Mizoram for the night, and she gave me money to buy my bus and train tickets to Delhi."
She sounds homesick despite the horrors of the past year. "I remember my mother and sister fondly, I miss them terribly," she says. But she is sure that the soldiers will come looking for her if she returned.
"There is no place like home, is there?" she says. One day, Vung says, she wants to become a nurse to help the sick.
Cing Nu, a slight 16-year-old, says a number of members of her family disappeared.
Two years ago soldiers arrived at her village, Saipimual, and took away her father and elder brother while they were working on the family farm. When her mother went out to find why, she "also didn't return".
"So we were struck at home, me and five siblings, not knowing what was happening to us. That is when we heard that the soldiers were returning to the village. I thought this time they would take me away."
Dramatic escape
A local teacher helped her to escape. When she reached Delhi, she found her elder brother who soldiers had taken away, working in a church in Delhi. "He never told me how he escaped," she says.
Salai Biak Hlei Thang is a cheerful boy, despite a traumatic childhood. He says soldiers arrived at the family farm in Sagai last year, raped his sister and took away his mother.
"They accused us of being rebels. They took me away, saying that I had to join the army."
Then came his dramatic escape. "I marched along with the soldiers to the army camp. On the way, they took a break and fell asleep on the roadside. I broke free and fled. Two days later, I was in Delhi," he says.
"I will return to Burma only when democracy returns."
Until then the future for him and his friends looks bleak.
"We face a difficult choice," says Cing Nui. "We desperately want to return home and be with our families but are scared for our lives to do so."
It looks like a choice between freedom and death.