Shoaib Mansoor: Pakistani film-maker tackling hypocrisy and taboos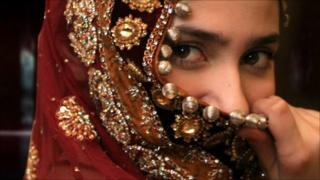 Prominent Pakistani film-maker Shoaib Mansoor courted controversy with the release of his first film, a hard-hitting story which tackled militancy and extremism. His latest film also breaks many social taboos in Pakistan.
Bol [translated as Speak] was released over the weekend and at a special screening for foreign media in Islamabad he told journalists not to expect too much.
It was a humble request unlikely to dampen expectations because his first film For the love of God resonated strongly with Pakistani audiences.
The wide-ranging ambitions of this writer, producer and director were clearly seen as he talked to journalists for two-and-a-half hours prior to the release of Speak.
He tackled a broad array of subjects such as women's rights, the plight of eunuchs, corruption in the police, male chauvinist attitudes and attitudes towards music. Many of these issues also feature in his new film.
Mr Mansoor's two movies prove that that he is not afraid of taking on social taboos which are often enforced through what he argues is a controversial interpretation of Islam.
Set in the heart of the old part of the city of Lahore, his latest effort revolves around a middle class family. The father is a "hakeem" or medicine man who cures diseases with herbal medicines. Despite growing economic hardships, he desperately wants a son but has six daughters instead.
'Good film'
Pakistan's film industry has been in decline over the last decade. More popularly referred to as Lollywood, it used to produce more than 100 movies annually back in the 1970s and 1980s.
Today, production has shrunk to about a dozen movies a year. Among several reasons for the drop, one is the declining quality of the films themselves.
Mr Mansoor's first movie was lauded because it rejuvenated the industry through its powerful message and story-line.
His second attempt is being praised for the same reason.
"No doubt it's a good film. I have known Mansoor for quite sometime. I have worked with him when he was directing plays on TV. Both his films are different, they are based on different subjects," says Agha Nasir, executive director of the private Pakistani TV channel, Geo.
"This film, however, I find particularly strong when it comes to keeping Pakistani audiences in mind. I am not an expert on marketing, but I think and hope it will be a hit."
Others have complimented the movie for its vivid depiction of the treatment of women in Pakistan.
"It clearly brings to light the hypocrisy in our society. We don't see many films like this one in Pakistan," says Zahid Hussain, a senior journalist who works for The Times in London and the Wall Street Journal.
But can this hard-hitting script create ripples in extreme religious circles? Both Agha Nasir and Zahid Hussain agree it easily can. "He [Mansoor]... hits quite hard. He has avoided creating a character of a religious leader like his last film. This time he played safe by bringing in a hakeem," says Agha Nasir.
Zahid Hussain fears it could attract widespread comment and reaction. "It remains to be seen how hardline or conservative segments of the society see it. But it is a very bold film."
Mr Mansoor admits receiving a negative backlash from those conservative elements to his first movie. "Oh yes they did react quite angrily," he told the BBC.
This may be the reason that he now avoids the media limelight. He refuses to talk about his new venture on tape.
Some have criticised him for this stance, which they argue is hypocritical. "He is urging others to speak up but he himself wishes to remain silent," says one audience member.
Mr Mansoor points out that the primary purpose of his film is a lament over the treatment of Pakistani women.
"Nothing in the world scares me more than the thought of being born a woman or [becoming] a eunuch in a country like Pakistan, where obscurantism has deep roots…Tragically, our interpretation and application of religion seem to begin and end with women.
"Leave the five per cent of the [female] urban educated elite aside, women seem to be the battleground where we practise a medieval form of religion".